Last month we discussed the series of commitments that set the standard for how we work on your behalf. These commitments are at the heart of our constant drive to satisfy residents.
One of these commitments is that when you need help, we're on it! We commit to respond to resident's request within 24 hours or within one business day, if an inquiry is made after hours, on holidays or weekends. We commit to promptly inform you of any issues that delay completion of work or other action.
Your satisfaction is important to us. It's how we grade ourselves — an integral part of who we are as an organization. We know you have choices and we work hard to earn your trust, each and every day.
If you would like to make any changes to your home, please see the Residential Management Office at Allen Heights. We ask that the lease holder provides us with a written notice which will include details of the type of alteration and location.
All alterations will need to be paid by the resident. Any approved alterations will be documented with an alteration addendum form. The alteration addendum will include the type of alteration, location and instructions prior to your move out date. In some cases there will be alterations that are permitted to remain in home after your move out. Please see your resident responsibility guide for more information on alterations to your home.
Thank you to everyone who joined us for our Move Night in August! We had a blast watching Avengers: Endgame and hope you did too! Please check out our upcoming September events. We hope to see you soon!
CORVIAS OFFICIALLY LAUNCHES
SOLUTIONS INVESTMENT PROGRAM
Corvias has officially launched a solutions investment program to make housing and energy efficiency improvements across the company's installations. The program will focus on six army installations including Fort Meade, Fort Bragg, Fort Rucker, Fort Riley, Fort Sill and Aberdeen Proving Ground. Projects covered through the program include the construction of new homes, home renovations, and energy improvements. Multiple improvement activities have already begun at Fort Riley with more on the way over the next six months.
We would like to invite you to enjoy our community pools. All community pools are open to all Corvias residents and their guest. As we are winding down from summer and have our kids back in school pool hours have changed. Please see below for the updated pool schedule for all three community centers. Each adult resident may accompany a maximum of 4 children at a time. Inflatable rafts and toys are not permitted. Young children may wear Coast Guard approved life vests in the shallow end of the pool. Please bring your pool pass that was issued to you and your military ID upon arrival to all pools. While enjoying our community pools we ask that all residents and guests use the pool in a safe manner.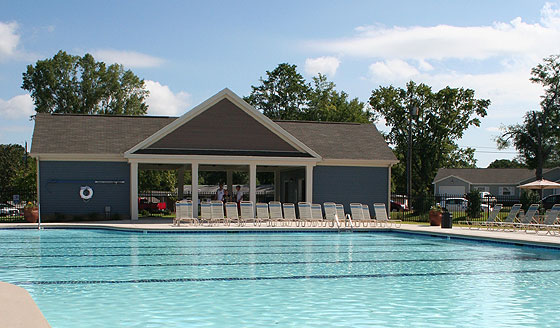 PREPARING FOR HURRICANE SEASON
Hurricane season has arrived and is here to stay until December 1st These storms can cause catastrophic damage to coastlines and several hundred miles inland. Hurricanes can produce winds exceeding 155 miles per hour as well as severe thunderstorms and tornadoes.
A great way to ensure your family is prepared for a hurricane is to create a disaster supply kit. A disaster supply kit is simply a collection of basic items your household may need in the event of an emergency. Try to assemble your kit well in advance of an emergency. You may have to evacuate at a moment's notice and take essentials with you. You will probably not have time to search for the supplies you need or shop for them. You may need to survive on your own after an emergency. This means having your own food, water and other supplies in sufficient quantity to last for at least 72 hours.
For more information and resources on how to prepare for hurricane season, visit www.ready.gov/hurricanes.
WANT TO HELP BUILD MORE RESILIENT COMMUNITIES?
If you want to join an inclusive team dedicated to helping its higher education, military and municipal partners solve their greatest infrastructure challenges, Corvias can help you build a rewarding career. A career built on superior customer service, innovation and problem-solving, coupled with opportunities for professional growth and giving back. Whether you're early in your career, a seasoned professional, or somewhere in between, we encourage you to preview our current opportunities. Corvias' benefits include complete healthcare, retirement plans with matching options, tuition and scholarship programs, paid time off, volunteer time off and family medical leave. Click below to see all openings.
RESIDENT RESPONSIBILITY GUIDE
We would like to thank you all for making our communities a fun, clean and safe environment. We encourage you to check out your resident responsibility guide which provides you with important information and guidelines that can be found here.
Some of the more common resident rule violations that we want to enforce to ensure that our communities look and stay clean.
Unauthorized vehicles such as trailers, RV's, Campers parked on driveways, or curb sides. These unauthorized vehicles can be parked at the Arts and Crafts center.
Remember that swings on trees can be a safety hazard in which they are not authorized.
When walking pets please ensure that they are on a leash and that you pick up after your pet.
Please store any personal belongings that may look like clutter in your garage or carport.
As always we thank you again for helping us keep our community clean and hazard-free.
September 5 - Pizza Night - 4:30 - 6:00 pm - All Community Centers
September 12 - DIY Stress Ball - 2:00 - 5:00 pm - All Community Centers
September 19 - Resident Advisory Group Meeting - 11:30 - 1:00 pm - Allen Heights
September 20 - Fall Color Contest - 2:00 - 5:00 pm - All Community Centers - Winners Will Be Announced On The First Day Of Fall (9/23)
September 27 - DIY Owl Ornament - 2:00 - 5:00 pm - All Community Centers
Allen Heights

22470 Christian Rd

Ft Rucker, AL 36362

334-440-8992

Bowden Terrace

9700 Division Road

Ft Rucker, AL 36362

334-440-8988

Munson Heights

45 Red Cloud Road

Ft Rucker, AL 36362

334-230-5128